---
Punchdown Tool With 110 & 88 Blades
3H02-F01-00002
This punchdown tool is small and easy to carry out , used to install twisted Ethernet cables into a Keystone jack. The blades and handle in this specific model are reversible, twistable and interchangeable with most competing industry tools. This tool is needed to insert wires into punch down Keystone Style jacks, and finish the job so the jacks can be utilized.
Impact Punchdown Termination Tools for 110 Style IDC
Changeable Blade:
Our Impact punch down tool has four type of blade you can choose.
We provide 110/88 type blade; Krone type blade; 66 type blade and 66& 110/88 blade.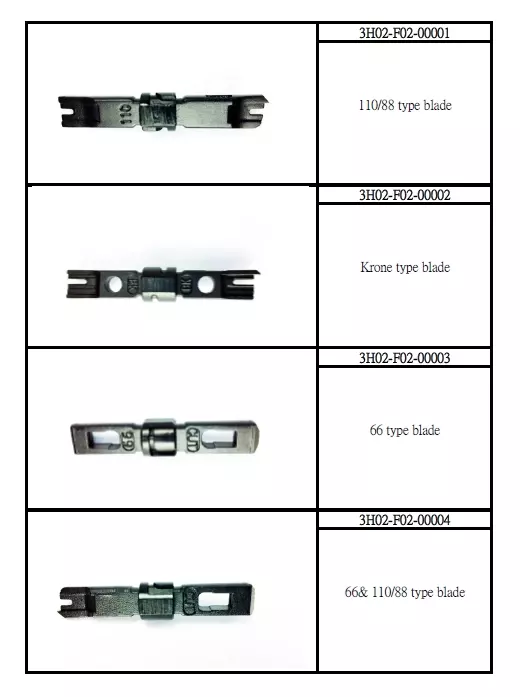 Features
Seats wire into terminal block or cuts off wire end after terminated.
Blades are iterchangeable/ reversible/ twistable.
The built-in hook for wire hooking; extractor for block removing.
Supplies an adjustable HI-LO impact force to meet demands.
Spare blade storage compartment is equipped.
Related Products

3H000008

---

Networking cable Stripper for UTP/STP data cable , suitable for multi conductor cable dimension from ψ3.5~9mm and also with cutting function and available for flat cable. A smart three in one function tool. Use adjustable knob for setting different insulation diameters, smart design to fit different OD cable. Small & easy to carry!

---

3H000005

---

EXW Special designed quick hand crimping tool is for the assembly of our Cat 6A Larger Diameter RJ45 Modular Plugs, because lack of strain relief, other crimping tool will cause damage on this plug. Follow our suggested assembly steps and use the correct tool; you can complete the assembly easily by yourselves! We can provide crimping hand tool with two different crimping OD 7.5mm & 6.0mm; therefore, you can choose the right one to fit with your cables!

---

---

Files Download

---