---
Cat 6A STP Blue Field Termination RJ45 Connector
3J01-K01-00001
EXW's 3J01-K01-00001, the Cat 6A STP Blue color Full Shielded Field Termination plug is designed to terminate with Cat6a or Cat7 larger diameter (23AWG to 26AWG) cable, which could be fitted with the outer diameter from 6.0~7.5mm. It not only gives you an excellent network cabling solution for datacenter and but also suitable for the Poe plus (IEEE 802.3at) application. This special RJ45 connector design for easy, quick, and reliable installation with the crew-fit boot. IP20 anti-dust plug cover is provided as well. It is a ideal product which can be used in automachine. Comparing the normally RJ45 plug, it can be reassembled around twenty times. It does give you a flexible way to maintain your equipments.
Cat 6A full shielded toolless modular plug
EXW offers OEM and ODM service, which enables clients to put their logo onto the latch, easy to indentify and recognize!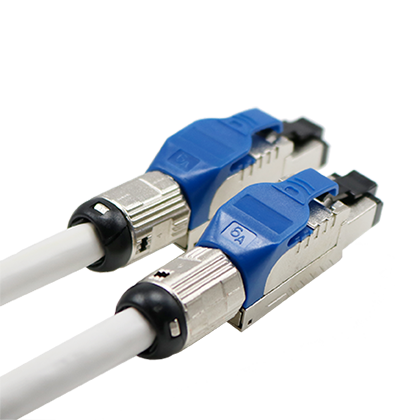 7 colors of Cat 6A toolless plugs are available now! OEM colors are also welcome!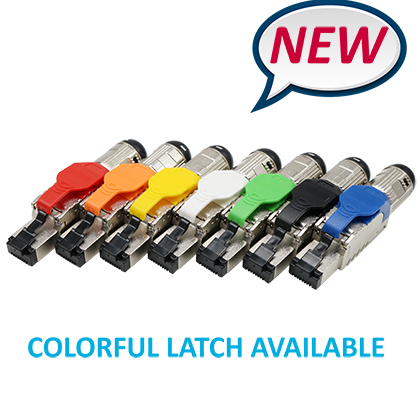 Crimping tool, 3J01-L01-00002, for Cat 6A toolless plug:
You can find crimping tool user guide in files download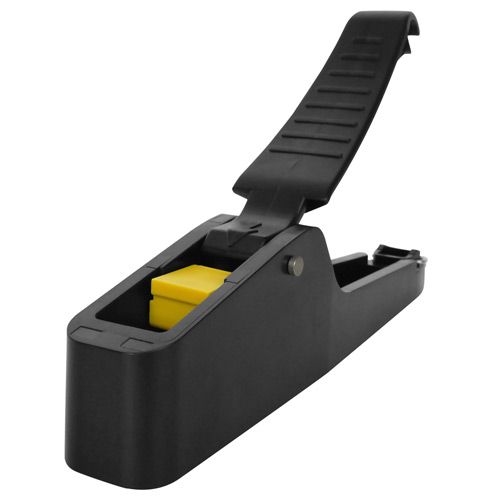 Assembly Guide below shows how to terminate toolless plug and assemble it with cable easily.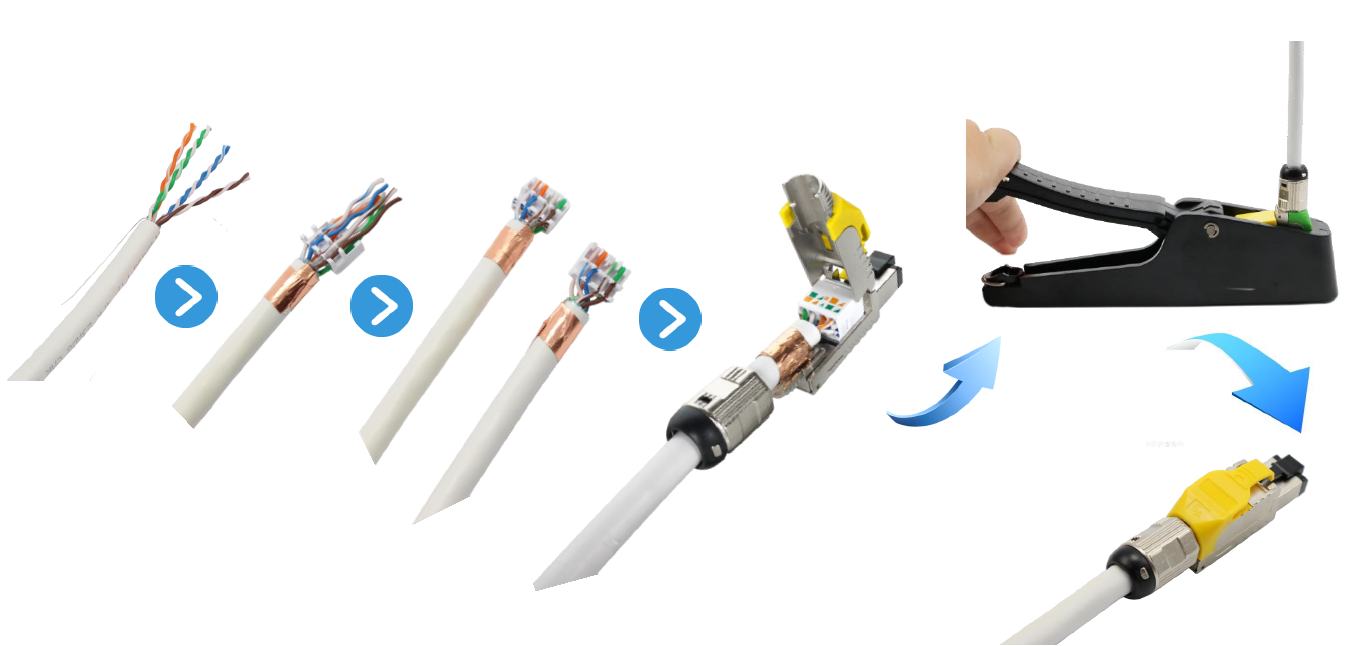 Assembly Video
Features
Full shielded with zinc alloy housing
T568A & T568B wiring
Complied with the C6A patch cord component level
Cable wire gauge : 23AWG to 26AWG
Cable outer diameter : 6.0 to 7.5mm
Suitable for the PoE plus (IEEE 802.3at) applications
Easy, quick and reliable installation
Material
1. Extractor : PC, UL 94V-2, options color.
2. Housing : Zinc die-Casting with nickel plated.
3. RJ45 plug :
3-1. Housing : PC, UL 94V-2, black color.
3-2. Contact material : Phosphor bronze with 100 micro-inch nickel plated.
3-3. Contact finish : Min. 50 micro-inch gold plated on surface contact area.
4. Cover : Zinc die-casting with nickel plated.
5. Wire management bar : PC+glass fiber, white color, UL94-V2.
6. IDC :
6-1. Housing : PC, white color, UL94-V2
6-2 Terminal : Titanium copper with tin plated.
7. Grounding contact : Zinc die-casting with nickel plated.
8. Boot :
8-1. Housing : Zinc die-casting with nickel plated.
8-2. SR : PC, UL 94V-2, black color.
8-3 CAP : PC, UL 94V-2, black color.
9. PCB, UL 94-V0.
10. Copper foil tape.
Related Products

---

Related Tools

---

Files Download

---

FAQ

EXW has three prong design contact blade which can fit both stranded and solid cable. You can save your budget for stocking two type of blade's plug. The base material of our blade is nickel which the thickness of nickel is 60U"~90U". And we can provide you the gold plate which the thickness of gold could be up to 50U".

Per FCC standard, it is suggested to use 50U" (1.27um) gold plated on the contact area in order to provide better contact between male RJ45 plug and female jack. Also 50U" gold plating RJ connector can meet the reliability test based on IEC 60603-7.

EXW provides you a few options to assembly large size copper cable. For the Cat 6A solution, our Cat6A STP Larger Diameter RJ45 Connector (P88R5Z50V2SIT-3Y-1.5MM) and Cat 6A STP Blue Field Termination RJ45 Connector (3J01-K01-00001) must be your best choice. For the Cat 8 solution, our Cat8 STP Field Termination RJ45 Connector (3J01-K01-00017) definitely matches your demand. The solutions for large size cable we EXW provides is from cable range 22AWG to 26AWG. For more detail information, you may kindly click the pictures below.