Why do you have to choose our EXW special RJ45 Connector which can fit Cat 6A, Cat 7 or Cat 8 large size cable?
EXW provides you a few options to assembly large size copper cable. For the Cat 6A solution, our Cat6A STP Larger Diameter RJ45 Connector (P88R5Z50V2SIT-3Y-1.5MM) and Cat 6A STP Blue Field Termination RJ45 Connector (3J01-K01-00001) must be your best choice. For the Cat 8 solution, our Cat8 STP Field Termination RJ45 Connector (3J01-K01-00017) definitely matches your demand. The solutions for large size cable we EXW provides is from cable range 22AWG to 26AWG. For more detail information, you may kindly click the pictures below.
Application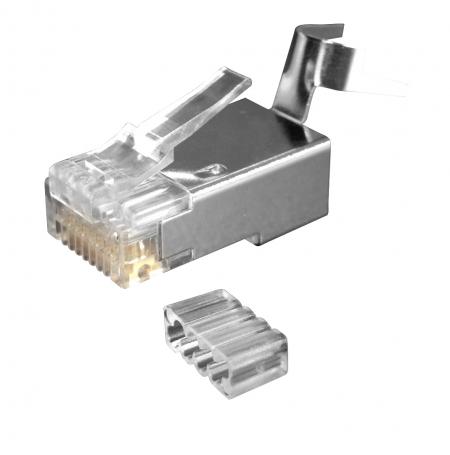 1. Economic Solution-P88R5Z50V2SIT-3Y serial: 
EXW gives you the plug wire hole 1.2mm, 1.5mm and 1.6mm for choosing, please check your cable inner wire OD (with isolator) and Jacket OD, then we can suggest you the right plug to fit your large cable. The standard package of this plug will be: PLUG: 100PCS/ Blister, 18 Blisters/Inner Box, 2 Inner Boxes/Carton.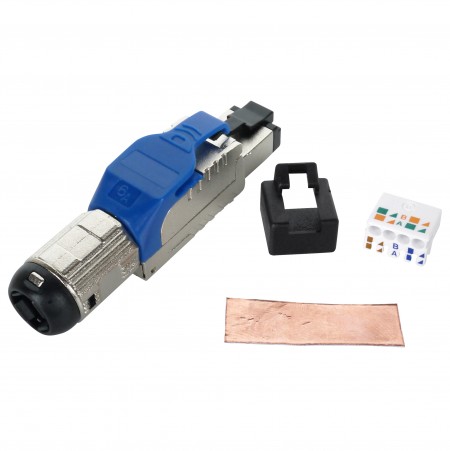 2. Hing-end Soution-Field termination plug
:Full Shielded Field Termination plug fit with Cat.6A or Cat.7 larger diameter (22AWG to 26AWG) cable, cable outer diameter from 6.0~7.5mm. If you need the one could be fit from the outer diameter 6.0~8.5, now we can also give you this solution. This one Provides excellent network cabling solution and also suitable for the POE plus (IEEE 802.3at) application. Easy, quick and reliable installation with crew-fit boot.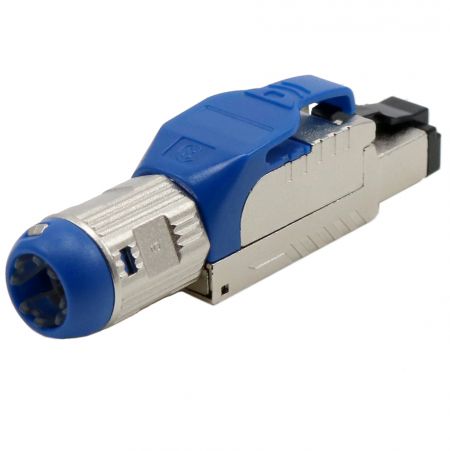 Cat8 STP Field Termination RJ45 Connector
The Cat8 STP Field Termination RJ45 Connector could provides you another solution for assembly the Cat 8 cable which the AWG is from 22AWG to 24 AWG. This one is espesically suitable for using in auto machine prodution line. The screw-fit boot could reduce the possibility that the connection of plug and cable getting loose.
Photo Gallerys

Related Products

P88R5Z50V2SIT-3Y-1.5MM

---

EXW's P88R5Z5V2SIT-3Y, the new Cat 6A STP Larger Diameter RJ45 Connector is designed to terminate with Cat6a or Cat7 larger diameter (22 to 23AWG) solid conductor cables but also suitable for stranded cable as well. EXW's special design load bar has two sizes for your choice, one is with 1.2 mm size, which could be used for your 1.2 mm wire hole plug and 1.5 mm wire hole plug, and the other is 1.6mm size, which could be used for 1.6mm wire hole plug. These three different sizes of the plug could provide you a wonderful solution that your plug could be fit the wire size range from 1.05 mm to 1.15 mm, 1.35 mm to 1.45 mm, and 1.5 mm to 1.6 mm. The part on the end of the plug could make the connection of plug and cable perfectly so that it will not get loose easily. If your cable's OD is really large, do not worry about that. Now we have another design which could be stable the large diameter cable as wee. Following our suggestion of assembly steps and use the correct tool, you can complete the assembly easier by yourselves! We use our own patent 3 prong blade that could fit in both stranded and solid cable. So, it does saves your pressure of saving in stock. We also provide different gold plating thickness which is from 3U" to 50U", and all gold plate are guaranteed by X-Ray machine. The smart wire position 6up / 2down is user friendly design, provide quick assembly speed with cat6 shielded cables. It can easily pass the component test which makes your product more competitive in the market. The plugs are commonly used in computer networking and other telephone applications. The plug housing 94V2 or 94V0 is optional. We provide the service for our customer to put the logo on our products or packages. For example, we will put the logo on the latch normally. It could increase your products value, and make more people know the brand. OEM / ODM are welcome!

---

3J01-K01-00001

---

EXW's 3J01-K01-00001, the Cat 6A STP Blue color Full Shielded Field Termination plug is designed to terminate with Cat6a or Cat7 larger diameter (23AWG to 26AWG) cable, which could be fitted with the outer diameter from 6.0~7.5mm. It not only gives you an excellent network cabling solution for datacenter and but also suitable for the Poe plus (IEEE 802.3at) application. This special RJ45 connector design for easy, quick, and reliable installation with the crew-fit boot. IP20 anti-dust plug cover is provided as well. It is a ideal product which can be used in automachine. Comparing the normally RJ45 plug, it can be reassembled around twenty times. It does give you a flexible way to maintain your equipments.

---

---