---
Cat6 UTP 90° Component Level Toolfree RJ45 Keystone Jack
3J01-A01-00028
EXW's 3J01-A01-00028, the Cat6 UTP 90° Component Level Toolfree RJ45 Keystone Jack, is wonder item you should have it. It can be assembly easily, and its component level can assure your channel works smoothly. It is suitable for 23AWG to 26AWG stranded and solid wire. In order to reach higher performance level, we have kept trying to meet Category 6 transmission criteria. With C6 total solution products applying with patch panels, keystone jacks, outlets, patch cords and verified cables, the performance could fulfill your high speed transmission requirements from telecommunication room to work area.
Cat 6 Unshielded component level 90 Degree Toolfree 8P8C Keystone Jack Black color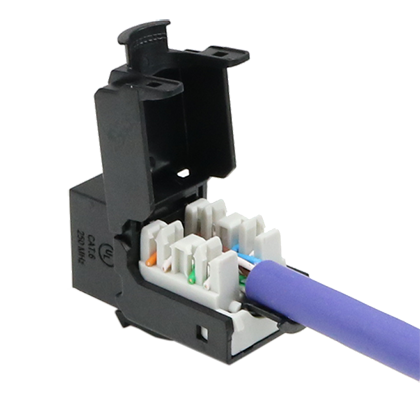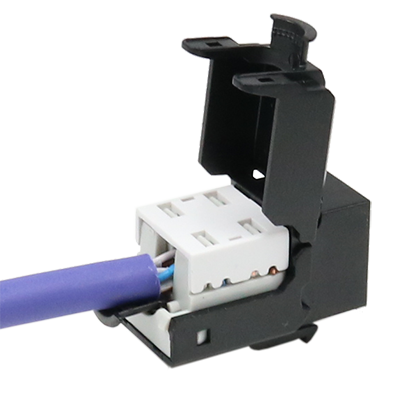 EXW provides easy crimping tool, 3J01-L01-00002, for this type of keystone jack.
You can find crimping tool user guide in files download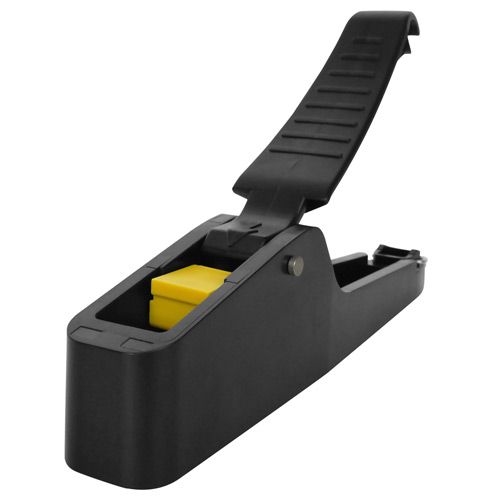 Features
Compatible with T568A and T568B wiring schemes.
Toolless type.
Compatible with 24-port applications in 1U.
Easily snap in and out of patch panel, and surface boxes or other application.
UL Certified & RoHS Compliant.
Electrical Features
Insulation Resistance: 500 MΩ.
Dielectric Withstanding Voltage: 1000 V AC.
DC Current Rating: 1.5 Amps.
DC Resistance: 0.1Ω.
Contact Resistance: 20mΩ.
Related Products

3J01-A01-00016

---

EXW's 3J01-A01-00016, Cat6 UTP 180° toolless RJ45 keystone jack could make your assembly more easier because you don't need any crimping tool. It is suitable for 23AWG to 26AWG stranded and solid wire. In order to reach higher performance level, we have kept trying to meet Category 6 transmission criteria. With Cat6 total solution products applying with patch panels, keystone jacks, outlets, patch cords and verified cables, the performance could fulfill your high speed transmission requirements from telecommunication room to work area.

---

3J01-A01-00004

---

EXW's 3J01-A01-00004, the Cat6 UTP 90° 110 punch down type RJ45 keystone jack. It is suitable for 23AWG to 26AWG stranded and solid wire. The design of transparent black color cap make its outlook more unique. In order to reach higher performance level, we have kept trying to meet Category 6 transmission criteria. With C6 total solution products applying with patch panels, keystone jacks, outlets, patch cords and verified cables, the performance could fulfill your high speed transmission requirements from telecommunication room to work area.

---

3J01-A01-00042

---

EXW's new design 3J01-A01-00042, the Cat6 UTP toolfree keystone Jack provides you a new solution. It is a high quality connector ensure system reliability and stability by automatic production line. The dust-prevent shutter design makes you no needed to buy extra dust cover for protection. The Toolless design requires no punch down tool. Now the termination of shielded modular jack takes you 90 seconds only. It surely increases the efficiency of UTP installation.

---

---

Related Tools

3H000036

---

EXW's Latest product Easy Crimping Hand Tool is designed for RJ45 toolless plug and RJ45 toolless keystone jack. The unique design is a wonderful item for saving your budget to buy extra tool. The surface of crimping part is under special treatment so that it can reduce the possibility to damage your product. The PVC material cover the handle makes you more comfortable when your engineer using it. We also have the ability to put your logo on it. The first part is for toolless keystone jack, and the second part is for toolless termination plug. It does save your time and energy. In the future, you don't need to assmeble your products by your hands. You only need to have this tool, then your team will be more efficiently.

---

3H02-F01-00001

---

This Easy Punch Down Tool is for 110 and 88 Type. It can strip for different size UTP/STP and Solid wire. The new design is more convenient for user stripping wire when rotating this tool. It is for stripping cable diameter 5.0 to 6.2mm. The stripper also includes a manual punch down tool feature for keystone jacks. Our Easy Stripper and Punch down tool is very handy, OEM/ODM are welcome!

---

3H000008

---

Networking cable Stripper for UTP/STP data cable , suitable for multi conductor cable dimension from ψ3.5~9mm and also with cutting function and available for flat cable. A smart three in one function tool. Use adjustable knob for setting different insulation diameters, smart design to fit different OD cable. Small & easy to carry!

---

---

Files Download

---