---
Cat6 UTP 180° 110 and Krone Dual RJ45 Keystone Jack
3D02-A01-00004
EXW's 3D02-A01-00004, the Cat6 UTP 180° 110 and krone dual RJ45 keystone jack could make your assembly more easier. Because this product is able to use both 110 type and krone type tool to insert your wire into the pin of IDC. It accommodates 22AWG to 24AWG solid cable. In order to reach higher performance level, we have kept trying to meet Category 6 transmission criteria. With C6 total solution products applying with patch panels, keystone jacks, outlets, patch cords and verified cables, the performance could fulfill your high speed transmission requirements from telecommunication room to work area.
Cat 6 Unshielded 180 Degree 110 and Krone Punch down 8P8C Keystone Jack
180 degree keystone jack has its unique termination tool, 3D02-L01-00001, to easily terminate the keytone jack below: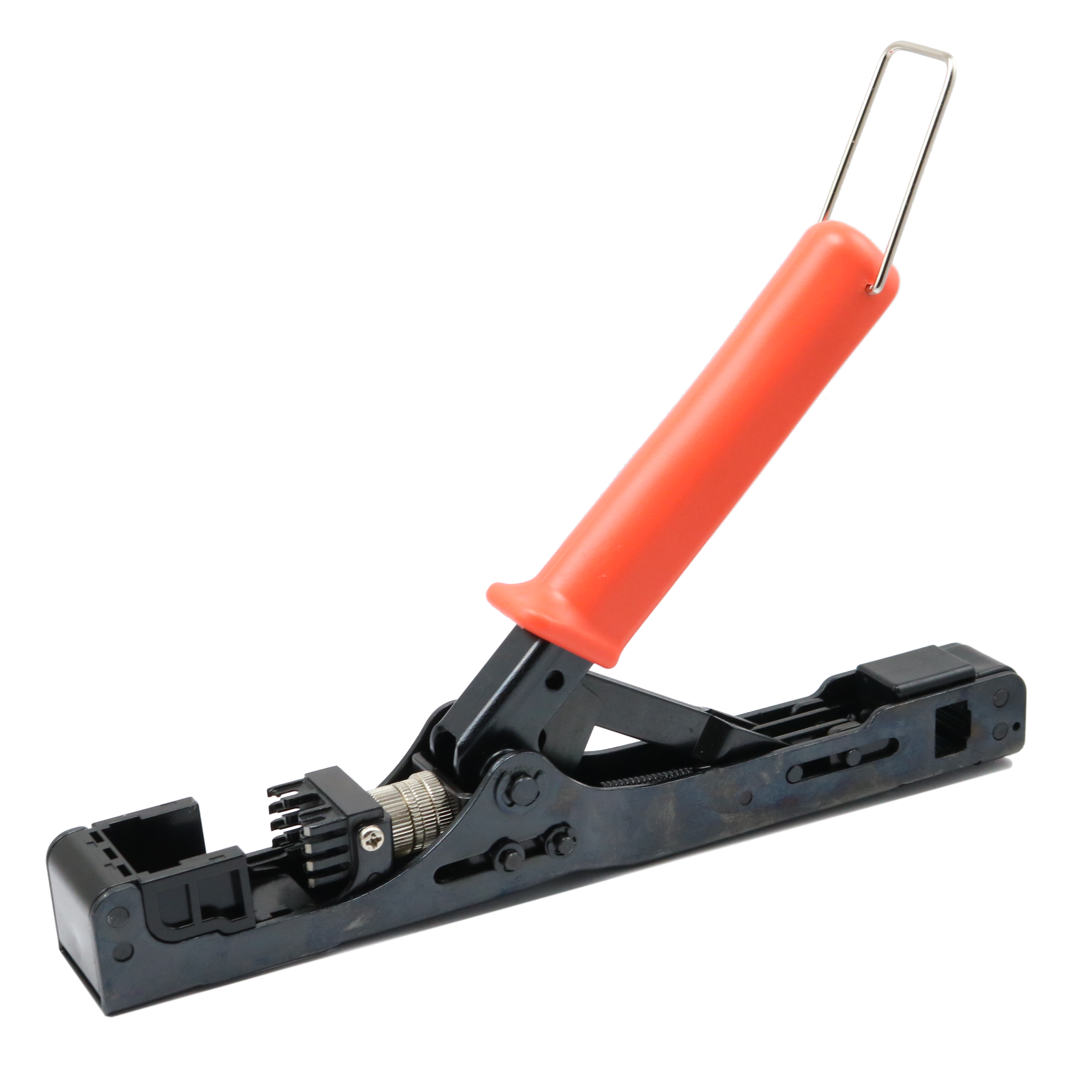 Features
Compatible with T568A and T568B wiring schemes.
110, krone both available punch down type.
Compatible with 24-port applications in 1U.
Easily snap in and out of patch panel, and surface boxes or other application.
UL Certified & RoHS Compliant.
Electrical Features
Insulation Resistance: 500 MΩ.
Dielectric Withstanding Voltage: 1000 V AC.
DC Current Rating: 1.5 Amps.
DC Resistance: 0.1Ω.
Contact Resistance: 20mΩ.
Physical Characteristics
Suitable Impact Tool: 110 & Krone Style Punch Down Tool.
Insertion Life: 750 Mating Cycles With FCC Compliant 8p Plug.
Contact Force: 100 Grams With FCC Compliant 8p Plug.
Plug Retention Force: 11 LBF MIN.
Durability: 200 Termination Cycles.
Contact Compatibility: Accommodates 22 To 24 Awg Solid.
Operating Temperature Range: -10°C To 60°C.
Storage Temperature Range: -40°C To 68°C.
Humidity: 10% ~ 90%RH.
Related Products

3D01-A01-00004

---

EXW's 3D01-A01-00004, the Cat6 UTP 180° 110 punch down white color RJ45 keystone jack which accommodates 22AWG to 24AWG solid cable. In order to reach higher performance level, we have kept trying to meet Category 6 transmission criteria. With C6 total solution products applying with patch panels, keystone jacks, outlets, patch cords and verified cables, the performance could fulfill your high speed transmission requirements from telecommunication room to work area.

---

3D01-A01-00029

---

EXW's 3D01-A01-00029, the Cat6 UTP 180° 110 punch down RJ45 keystone jack provides you a solution which is for 28AWG cable. The special design could make your cable more tighter and stable when you assemble it through the hole of the cap. In order to reach higher performance level, we have kept trying to meet Category 6 transmission criteria. With C6 total solution products applying with patch panels, keystone jacks, outlets, patch cords and verified cables, the performance could fulfill your high speed transmission requirements from telecommunication room to work area.

---

---

Related Tools

3H02-F01-00002

---

This punchdown tool is small and easy to carry out , used to install twisted Ethernet cables into a Keystone jack. The blades and handle in this specific model are reversible, twistable and interchangeable with most competing industry tools. This tool is needed to insert wires into punch down Keystone Style jacks, and finish the job so the jacks can be utilized.

---

3H02-F01-00001

---

This Easy Punch Down Tool is for 110 and 88 Type. It can strip for different size UTP/STP and Solid wire. The new design is more convenient for user stripping wire when rotating this tool. It is for stripping cable diameter 5.0 to 6.2mm. The stripper also includes a manual punch down tool feature for keystone jacks. Our Easy Stripper and Punch down tool is very handy, OEM/ODM are welcome!

---

3H000008

---

Networking cable Stripper for UTP/STP data cable , suitable for multi conductor cable dimension from ψ3.5~9mm and also with cutting function and available for flat cable. A smart three in one function tool. Use adjustable knob for setting different insulation diameters, smart design to fit different OD cable. Small & easy to carry!

---

---

Files Download

---