---
Cat6 STP IL Type RJ45 Connector
C6R5Z50V2SIL
EXW's C6R5Z50V2SIL, the two pcs design CAT6 STP RJ45 connector use our own patent 3 prong blade that could fit in both stranded and solid cable. So, it does saves your pressure of saving in stock. We also provide different gold plating thickness which is from 3U" to 50U", and all gold plate are guaranteed by X-Ray machine. The smart wire position 6up / 2down design bring superior performance when assembly with cat6 shielded cables. It also can be fitted with our plug boot perfectly.
We provide the service for our customer to put the logo on our products or packages. For example, we will put the logo on the latch normally. It could increase your products value, and make more people know the brand.
OEM / ODM are welcome!
Cat6 Shielded IL Type 8p8c Connector
Assembly Guide
1. Remove cable jacket, cut 2/3 of cable braid and foil for 4 pair wires. Next, Arrange 4 pair wires according to EIA/TIA 568A or 568B wiring schemes. Then, cut the wires in an oblique angle and insert the wires into loading bar and then cut the balance wires as below.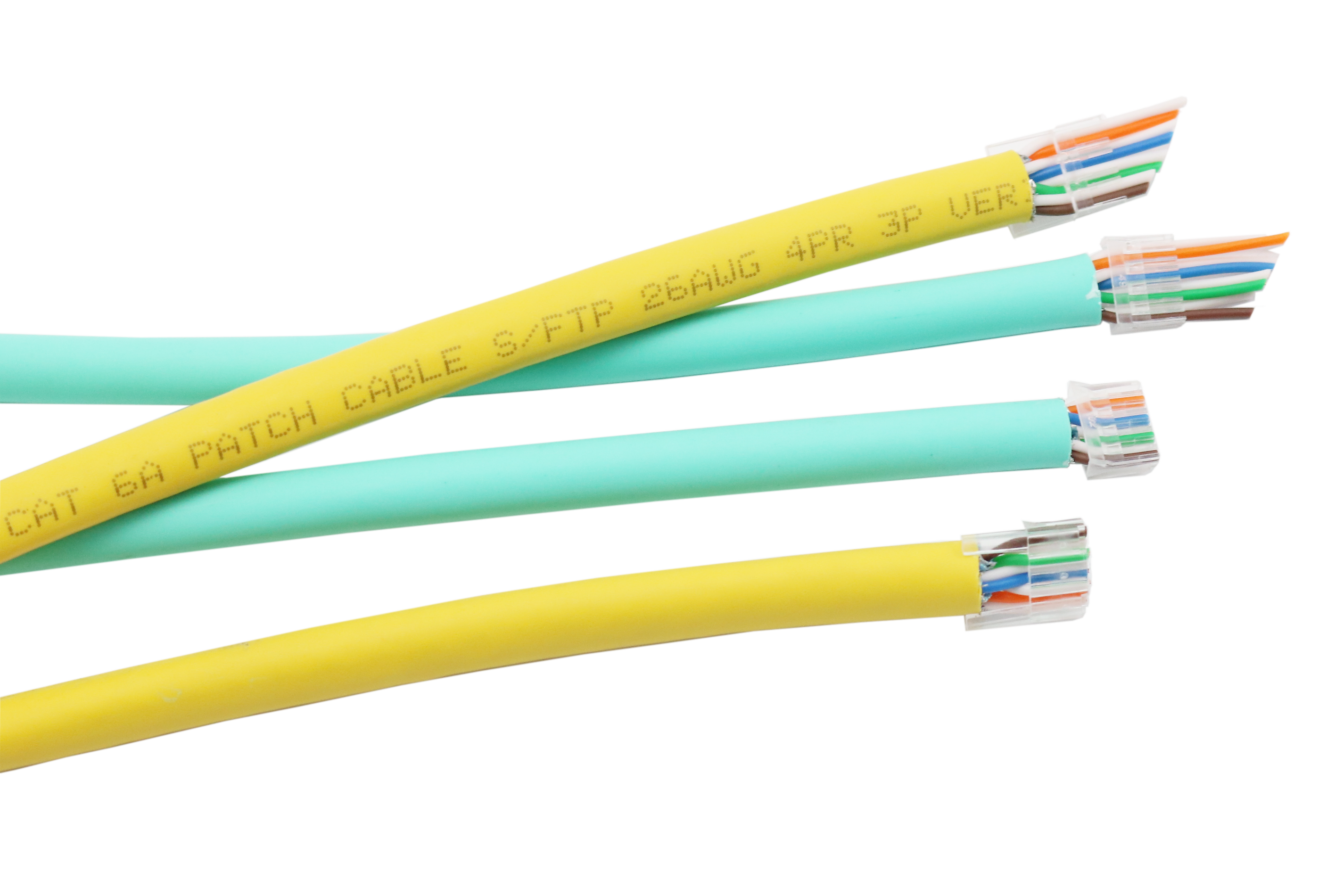 2. After the step above, assemble the plug, arrange the ground wire in the middle, and cut the spare ground wire off. After that, crimp the plug by hand tool or crimping machine. Finally, do the molding after crimping the plug, which lets the appearance of patch cord elegant and provides the protection to the patch cord.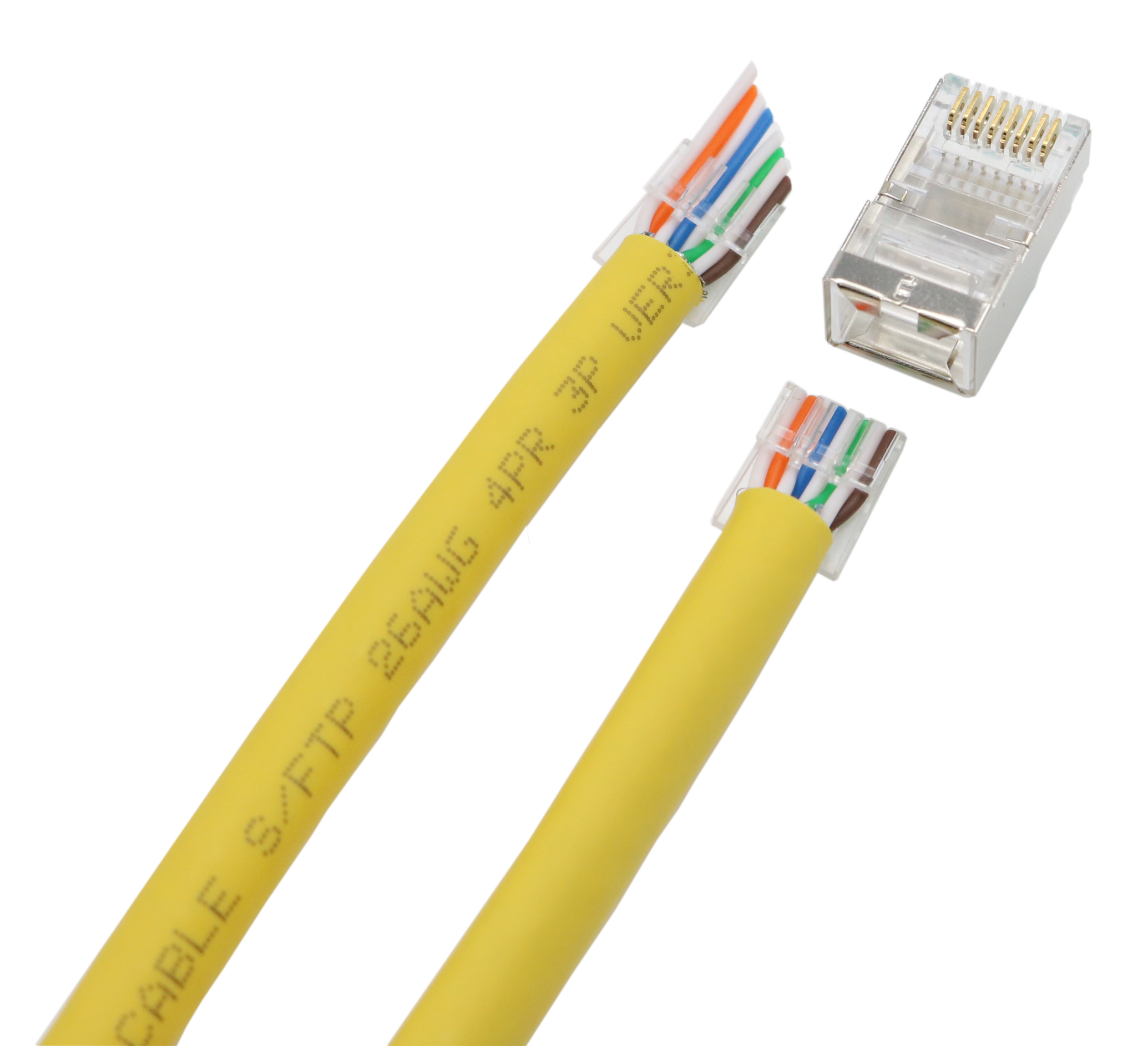 Features
RoHS compliant.
Follow FCC Part 68 standard; meet reliability test based on IEC 60603-7.
UL Certified.
EXW Z blade (3 prong blade) with patent for 5 countries : China, USA, Germany, Japan and Taiwan.
Electrical Features
UL Applications: 250 Volts AC max., AT 2 Amps.
Dielectric Withstanding Voltage: 500 Volts AC.
Insulation Resistance: 100 MΩ.
Termination: Resistance 20mΩ Max After
Environmental Testing.
Related Products

---

Related Tools

3H000010

---

This Easy Crimping Hand tool is not only designed for our Easy RJ45 plug but also for RJ11 and RJ12. It is very convenient to crimp the feed through design plug and trim the cable in one time. The material of this tool is very solid and the part of grip has an anti- slip treatment that could help user handle easier. The pass through design of Easy RJ45 plug is smart and easy assembly. You can strip the cable by this tool, or you may also choose our cable stripper. We now have a set of Easy RJ45 tool box. It is including Easy Crimping hand tool, and four more slot for easy RJ45 plug or RJ45 plug cover. Choose our Easy series RJ45 connector could bring you different experience for assembly! Make connection easy and fun!

---

3H000008

---

Networking cable Stripper for UTP/STP data cable , suitable for multi conductor cable dimension from ψ3.5~9mm and also with cutting function and available for flat cable. A smart three in one function tool. Use adjustable knob for setting different insulation diameters, smart design to fit different OD cable. Small & easy to carry!

---

---

Files Download

---

FAQ

EXW has three prong design contact blade which can fit both stranded and solid cable. You can save your budget for stocking two type of blade's plug. The base material of our blade is nickel which the thickness of nickel is 60U"~90U". And we can provide you the gold plate which the thickness of gold could be up to 50U".

Per FCC standard, it is suggested to use 50U" (1.27um) gold plated on the contact area in order to provide better contact between male RJ45 plug and female jack. Also 50U" gold plating RJ connector can meet the reliability test based on IEC 60603-7.