Why Snagless Pass Thru RJ45 Connector?
The Pass Through connectors are of higher performance, much easier to assemble, and more time efficient, compared to the closed-end ones. The connector allows wires to feed through it. This way, it becomes extremely easy to check the wire position prior to crimping. Now, beginners are free from making the common rookie mistake that causes disconnections, and professional cable installers are more than happy to work more efficiently with the better connectors.

Our connectors with the Snagless feature save the inventory cost by reducing the purchase of plug boots because the arch clip is tangle free. But, if you would like to use plug boots for protection, we have a variety of great plug boots for every type of RJ45 connector. For snagless connectors, we strongly recommend the RJ45 Modular Plug Boot for Snagless and Closed-End Plugs (01-147) and the RJ45 Short Modular Plug Boot (01-163). The color of these two plug boots is clear, which adds to its functionality in terms of cable management and color-coding. The transparent PVC material allows us to see the beautiful color underneath the boots. Therefore, it not only increases the aesthetics but also matches the color of the plug boots to that of the cable jacket thanks to its material.

With over 36 years of experience, we welcome OEM and ODM orders. Whether it is printing your logo on the package, matching the colors to your likes, or designing a new product for your application, all of these customizations and our service are tailored to accommodate your needs.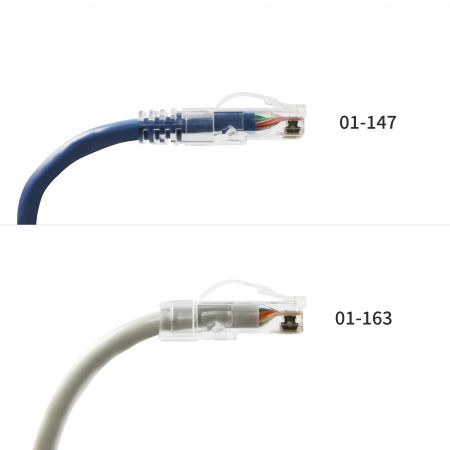 More About the Plug Boots
Both plug boots can be used with cables with outer diameters up to 6.5 mm. The Short Plug Boot can also fit with slimer cables with an outer diameter of 4.7 mm. The major difference between the two plug boots is the length. Smaller plug boots tend to have larger bend radius, which allows the cables to bend more and makes cable management less of a hassle. Please visit the product pages for more information.
Photo Gallerys

Related Products

---

The plug boot for ethernet connectors can be used with both pass-thru ethernet plugs and closed-end RJ45 connectors. A small groove on the plug boot allows you to press the clip on the connector smoothly. The high quality PC material makes a clear and shiny color on the connector, which gives a patch cord a more beautiful appearance. The largest compatible OD to 6.5 mm. We have been manufacturing OEM and ODM products for many well-known brands across the world. Whether it is printing your logo on the package, matching the colors to your likes, or designing a new product for your application, our service is tailored to accommodate your needs.

---

---

The new ultra small and short 8 mm plug boot for our 8P8C snagless pass through plugs and closed-end plugs is made of PC and robust for strain relief. The non-recycled PC material also increases the aesthetics by giving a decent transparent look through the plug boot to the cable underneath. The short and small plug boot is especially designed for slim cables. It has 2 different ODs: 4.7 mm and 6.5 mm. Welcome OEM and ODM orders.

---

---